Note: This is a Fan-Made Blog, Nothing POTCO Official.
'ello Mates! I would like to give out the word of the, Legendary, One-Of-A-Kind, One And Only, SPECTRAL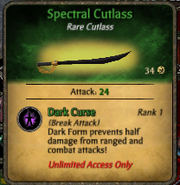 CUTLASS!!!!!!!!!!!!!
Stats:
Attack of 24
Rare
' Shadow Cutlass Brand '
34 Gold Resale Value ( About 640 Gold To Purchase )
No Level Required
Unlimited Access Only
Dark Curse ( Break Attack ) Rank 1
Get it Using This Code,
SPECTRAL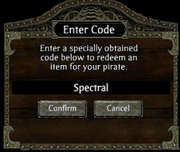 Ad blocker interference detected!
Wikia is a free-to-use site that makes money from advertising. We have a modified experience for viewers using ad blockers

Wikia is not accessible if you've made further modifications. Remove the custom ad blocker rule(s) and the page will load as expected.