The Great Carribean Ghost Hunt
UPDATE - SATURDAY'S HUNT BEGINS! Sandra Tew reveals today's clues to locate the missing Ghost GMs below. If you find one of these orange orbs today, free it by saying this voodoo phrase: DEADEYE
Cursed I am to be trapped in these caverns in an orange glow, water around me and a ship sunk below. (Ocean: Exuma) FOUND!
Here I look out at fiery Padres off on the horizon, if it's the reward ye seek to earn. You'll spot me by my only amigo here, a nearby waterlogged fern. (Ocean: Fragilles) FOUND!
If ye've gone silent, ye went the wrong way. Two deadly assassins be guardin' the cave where I stay. (Ocean: Galaira) FOUND!
If it's a dig spot for rum ye seek, I'll never be found. But yer not that far off, for I am underground. (Ocean: Guines) FOUND!
Though my resting place be damp and dark, the shiny gems and torches reflecting in these pools give light its spark. (Ocean: Hassigos) ''FOUND!
'''One reward per Pirate, per day, of the weekend Ghost Hunt. Happy haunting... err- hunting, mates!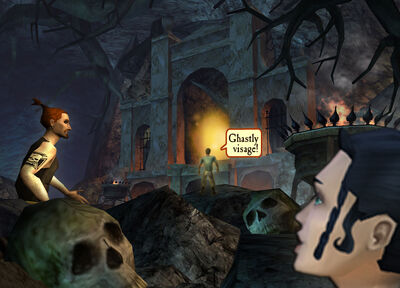 Each day's new set of clues to locate the ghosts will be revealed right here on this same Blog post, at these times:
• FRIDAY, JULY 20: 11am (PST)
• SATURDAY, JULY 21: 4pm (PST)
• SUNDAY, JULY 22: 4pm (PST) When she reveals the daily clues, Sandra Tew will also give a "voodoo phrase" for that day. Then the hunt officially begins!
Figure out the clue, find the ghost in orange orb state, and speak the "voodoo phrase" of the day to set the orange Ghost GM free.
Remember, when you find the orange orb ghost, you must speak this phrase in chat to free the Ghost GM. If you successfully restore the captive spirit, the orb turns blue.
The first Pirate to find and free the Ghost at a particular location wins the reward: 50,000 gold coins! If you find a ghost and the orb is already blue, that means another swift and savvy Pirate has beat you to it, and already won the reward.
NOTE: Gold code prizes will be awarded through e-mail. Make sure your e-mail address is current on the Pirate's account you're competing with by clicking here!
Author Comments
I would like add some Notes,
*Be sure to Click on the Picture to View Full Size.
*Some Options are Not Viewable A.K.A. Orange Orb Phrases are Not Orange
With That, Fair Winds and Happy Hunting!
Blue2095 Blog Corporation™ ©opyright - All Right Reserved, Anyone Who Tries to Copy Without Permission Can Receive a Federal Fine up to $25,000 and a Long-Term in Prison.
Ad blocker interference detected!
Wikia is a free-to-use site that makes money from advertising. We have a modified experience for viewers using ad blockers

Wikia is not accessible if you've made further modifications. Remove the custom ad blocker rule(s) and the page will load as expected.